I think most conversations I have with people about COMC focus on the "what do you sell" or "what should I sell" aspect of the marketplace. Very rarely do people ask me what I buy for myself. Quite honestly, I haven't been purchasing cards to PC very much anymore. Not for a lack of interest necessarily - I rip packs, buy and trade on forums, occasionally will purchase on a certain auction site, etc. Up until recently, my PC had literally five cards in it. Kind of sad.
Here are those lucky five cards:
Obviously as a Yankees fan (queue the hissing, booing, and A-Roid jokes) you can see why I would pick up these cards. The Mick is...Mick. The other four are Paul O'Neill rookies I've held onto for a while. He was the first major league player I was able to watch live as a little boy in Billings, Montana. I'll probably talk more about my love for The Warrior at a later time. The Mantle is actually a really nice card. It grades out at a BVG 2 because of the mark on the front...otherwise it is a very nice card with excellent eye appeal.
The past two weeks have brought three new cards into what I consider my PC. The first card I picked up at Northwest Sportscards, which I consider the best card shop in the area. The owner is Jim and he is a fantastic guy and I always enjoy visiting the shop and him.
I saw this guy in a stack of jersey cards and the price was right.
As I was paying for the Posada, some packs, and supplies I noticed Jim had a bunch of stuff on the counter to price. Including some of the Masterpieces 5X7 framed portraits. In the stack was a Lou Gehrig...and again...the price was right.
The final card I've added recently is of another Yankees legend. I picked it up from a seller on COMC who I have purchased from a number of times -
Chaddie84
- he has some nice stuff and is currently running a sale at 40% off. Click on his name to go to his port. He had this one listed...I've never owned a game used of his...and I had funds. So this one will be coming home in my next shipment as well.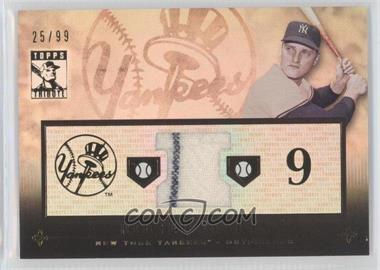 So, obviously there is a theme to my collection...just not sure it has a direction. It seems more often than not, I will add a card to my cart on COMC to purchase, but then remove it later after thinking it over. Just having a tough time pulling the trigger on things right now. I haven't really had this problem before.
I think I'm hoping to add a couple of Jeter rookies before they go too crazy...maybe some other stuff over time. I'm not sure exactly what fits in the PC right now, I just know when I see it.
I guess a fitting way to end this blog post is to pay tribute to former players that I have collected over the years.
- Shaun Marcum
- Xavier Nady
- Melky Cabrera
- Gary Carter

The closest I've probably ever come to super collector status was with Shaun Marcum...who I collected because our last name's are pronounced the same. To give an idea, I had twenty seven of the 1/1 cards produced for him. Just lost interest at the end.